Teen charged in N. Potomac crash that killed 2 students | News
POTOMAC, Md. (WUSA9) -- A former quarterback at Wootton High School is being charged in the fatal North Potomac crash that left two recent Wootton High School graduates dead in June.
Samuel Ellis, 19, is being charged with five counts in the death of the students, officials said. He faces 23 years in prison should he be convicted.
READ:  CHARGING DOCUMENTS
​
Ellis is being charged with two counts of manslaughter by motor vehicle and two counts of homicide by motor vehicle while under the influence of alcohol for the crash that killed Alex Murk and Calvin Li. Ellis is also facing one count for causing a life-threatening injury while under the influence of alcohol. That charge is for injuries to Cameron Siasi, the front seat passenger, who survived.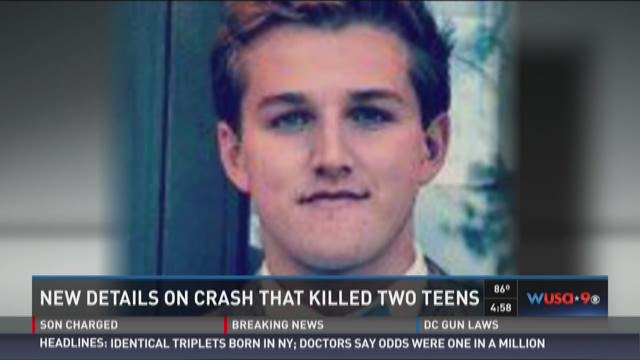 The crash happened in the area of the 13800 block of Dufief Mill Road on June 25. Ellis was driving the car from an underage drinking party when the car crashed into a fence and then into a tree before overturning into a yard. According to officials, speed and alcohol were both factors in the crash. 
Murk and Li, both passengers in the back seat, were killed in the crash. A fourth teen, who was in the front passenger seat, also suffered serious injuries.
The family of Alex Murk released a statement Monday in response to the charges arising out of the death of their son. 
Recently WUSA9 learned that a parent was present at the alcohol-fueled party in North Potomac that led to a fatal car crash, according to documents obtained. The documents also show that the car carrying Alex Murk, Calvin Li, Sam Ellis and Cameron Siasi was also traveling at least more than 30 miles above the speed limit before the crash.
The documents show that Ellis was driving at a minimum speed of 65 miles per hour in a 35 mile per hour zone. In an interview with investigators, Siasi said he saw the speedometer at 105 miles per hour and said "Sam's eyes widened" and "Calvin let out a faint scream."
Police had previously said Murk and Li were not wearing seat belts. Both of the front-seat passengers were wearing seat belts.
The party was held at the home of Kenneth Saltzman, whose daughter was the host. Documents reveal that one party goer brought two 30-packs of beer and Salzman jokingly asked if one of those cases was for him. 
PREVIOUS: Sources: Parent was at party that led to fatal N. Potomac crash
All of the alcohol for the party was bought at a liquor store in Rockville, sources say. Some of that alcohol was purchased by a teenage boy with what sources describe as "a very good fake ID." The rest of the alcohol was bought by a 21-year-old sibling of one of the party goers.
Documents show Ellis' blood alcohol level was a .09 at a hospital two hours after the crash. Later, using a state police kit, it was a .07.  For adults, the legal limit of intoxication is .08.
According to the documents, Ellis also tested positive for marijuana and benzodiazepines, which is found in medications like Xanax.
PHOTOS: 2 killed in North Potomac crash
If convicted, Ellis faces 23 years in prison. Saltzman faces a $2,500 fine for each of the two citations.
The court date for Kenneth Saltzman is set for December 10th. No dates have been provided for Sam Ellis. 
Like this story? Like us on Facebook 

RELATED: 
One month since North Potomac fatal crash
PHOTOS: Tribute set up for 2 teens killed in North Potomac car crash
Police release names of N Potomac crash victims
Driver in North Potomac fatal crash expected to survive